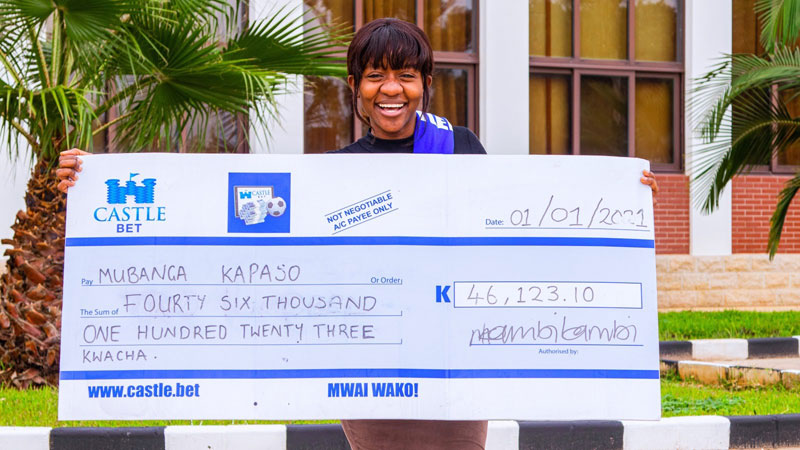 A BRIGHT female UNZA student was celebrating last night after winning K46,123 pin profit by spotting a loophole on Castlebet's website.
Fearless VIP sports betting gambler Mubanga Kapaso, 22, landed her big payout while revising for her final exams at UNZA where she is completing a degree in Developmental studies.
The successful student spotted odds that were too big - and hit the Castlebet sports betting website hard with a series of huge successful bets including 1 bet of more than 27 pin.
Genius Mubanga - who opened her Castlebet account only a few months ago - was tipped off by her boyfriend that Castlebet were offering odds he thought were too big on a new bet type offered exclusively by Castlebet.
The interesting bet option asks players to predict the Number of Free Kicks during the first 10 minutes of big games - under or over 2.5.
Last night Mubanga explained: "I only started football betting quite recently but my boyfriend has been guiding me and he told me that he had noticed there were very few free kicks early in the game.
"He suggested that maybe I should bet on a few free kicks (under 2.5) during the first 10 minutes of the game."
"I used to bet with Betway but I upgraded to Castlebet several months ago because a friend told me that Castlebet is much better than Betway, so I decided to give it a try."
"I prefer Castlebet because firstly it is a Zambian owned company and I always support locals. Castlebet is the only betting company that will give over 400 betting markets on a match, i am able to make deposits into my account using MTN, AIRTEL, ZAMTEL, ZANACO, FNB and cash deposits. Castlebet is the best betting company in Zambia."
First, Mubanga loaded her Castlebet account with over 20 pin by using Castlebet's popular Zanaco Bank transfer deposit method.
Clever Mubanga placed several of her bets after Midnight when Castlebet's football odds experts had knocked off for the evening.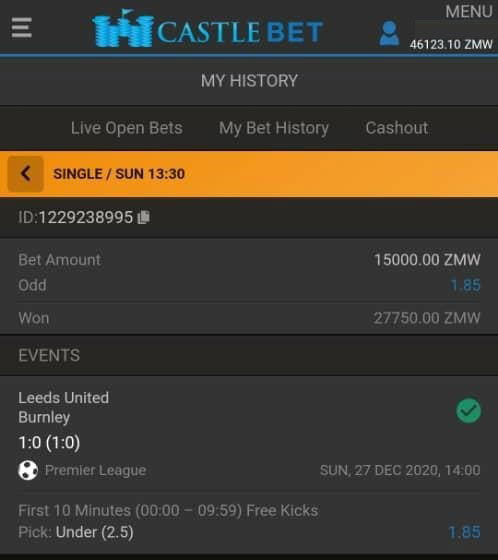 The young entrepreneur - who also sells wigs and takes part in village banking as a side hustle during her studies - placed her ultra-intelligent series of bets on free kicks during the first 10 minutes being few in number on 4 EPL games.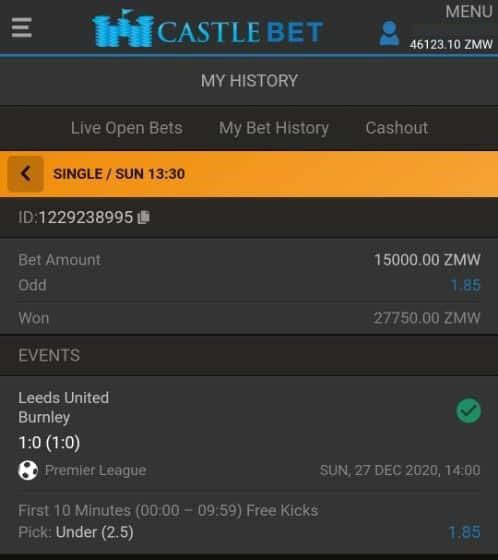 Although several of her Free Kick multiple bets lost narrowly when 1 selection let her down, the massive returns from her successful big bets were still more than enough to cover her losses and guarantee her a large profit overall.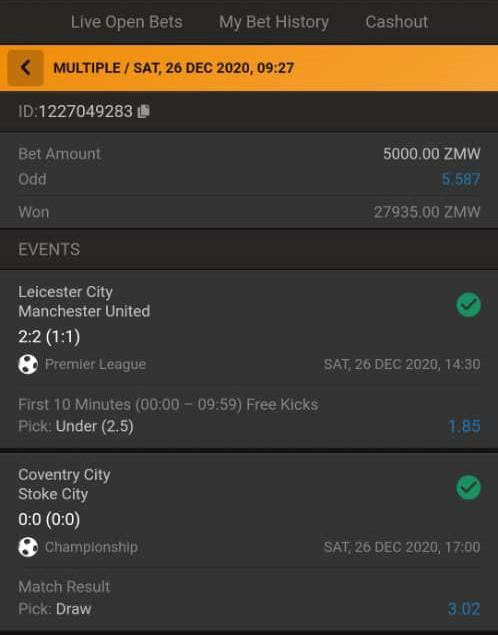 Mubanga stood to win an extra 120 pin from her multiple bets if just one more of her predictions on a few free kicks during the first 10 minutes had succeeded.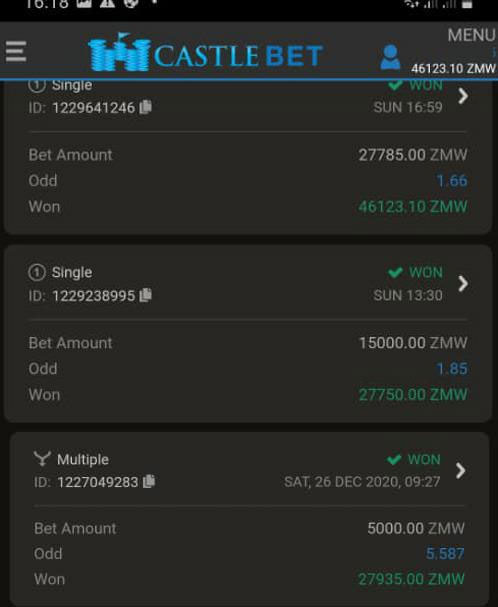 Last night Castlebet PR expert Elizabeth Bulawayo added: "We congratulate Mubanga on her success and beat us big on this occasion. This girl is a fearless gambler and risk taker."
"Honestly speaking when we first realised a betting account of a 22 year old girl had placed huge bets of 27 pin plus on the number of Free Kicks in a football match late at night, we guessed Mubanga must be placing bets on behalf of a rival betting company from Europe or a gambler from Greece."
"We find that women normally prefer betting on virtual games and although Castlebet specialises in offering fantastic service to big betting customers it's very unusual to observe woman customers who bet as aggressively as her on football."
"However, Mubanga tells us she came up with the idea for these bets herself so we are ready to congratulate her."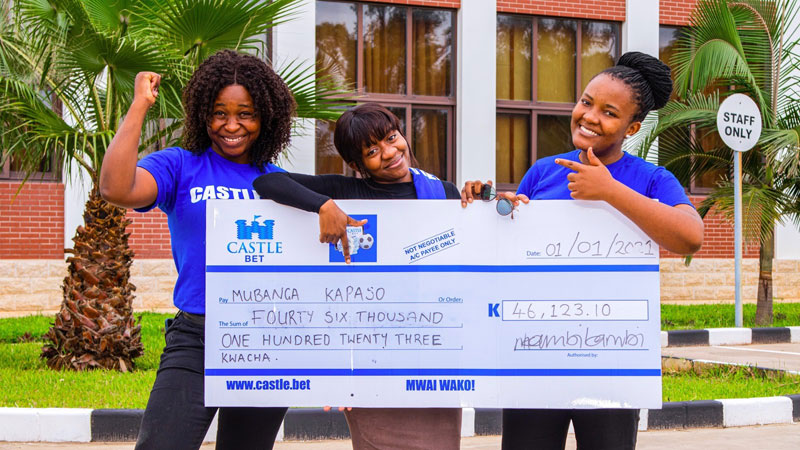 "In fact we are so impressed by her extraordinary knowledge and strategy with these bets that we have reduced the maximum bet we can accept on this type of new bet option until we are sure our odds have been updated!"
"At Castlebet, we aim to set ourselves apart from other sports betting companies by offering far more markets than our competitors on every game."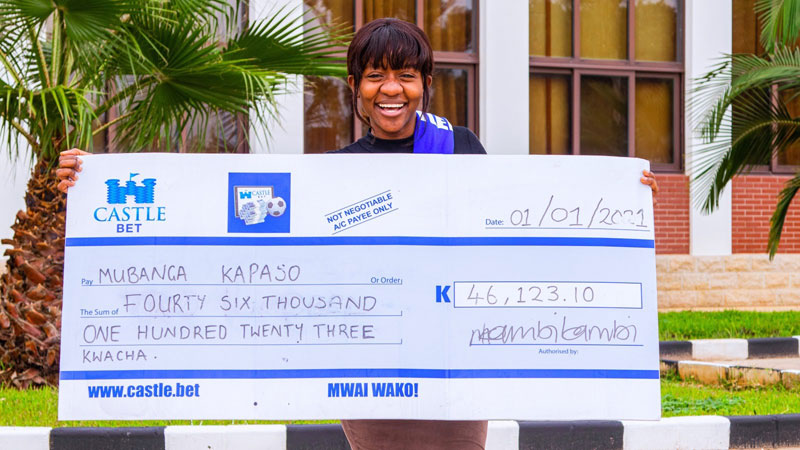 "We are also known for accepting huge bets up to 500 pin on the most popular bet options such as which team will win each game."
"We aim to offer VIP customers and big gamblers like Mubanga a better service than other Zambian sports betting companies by offering more convenient payment options like bank transfer and doorstep deposits."
"We also give each VIP customer a dedicated account personal manager so they have as smooth an experience as possible. The feedback we get from VIP customers is that they are tired of being put on hold and made to wait to speak to a foreign call centre when they face a challenge with other sports betting companies. We try to offer a different, personal service."
"However, offering extra options to our customers obviously carries risks, and on this occasion Mubanga managed to cash in on our carelessness in giving over generous odds. We salute Mubanga as a clever young betting queen!"
"We are hoping no other bright UNZA students spot similar mistakes in our odds in future and from now on we will need to be much more careful when setting the odds on these popular new bet options not offered by our competitors. Mubanga, Mwai Wako!"
Genius Mubanga's amazing bets in full:
Bet 1:
Stake: k5,000
Return: k27,935
Profit: k22,953
Time & Date: 26/12/20
Prediction: First 10 Minutes (00:00 – 09:59) Free Kicks
Bet 2:
Stake: k15,000
Return: k27,750
Profit: k12,750
Time & Date: 27/12/20
Prediction: First 10 Minutes (00:00 – 09:59) Free Kicks
Bet 2:
Stake: k27,785
Return: k46,123
Profit: k18,838
Time & Date: 27/12/20
Prediction: First 10 Minutes (00:00 – 09:59) Free Kicks