COPPERBELT football fan WINS 70 PIN+ from just K1!
Castlebet Winner Chama Kaoma celebrates at Wayaya Bar & Restaurant in Kabulonga with Castlebet Marketing team.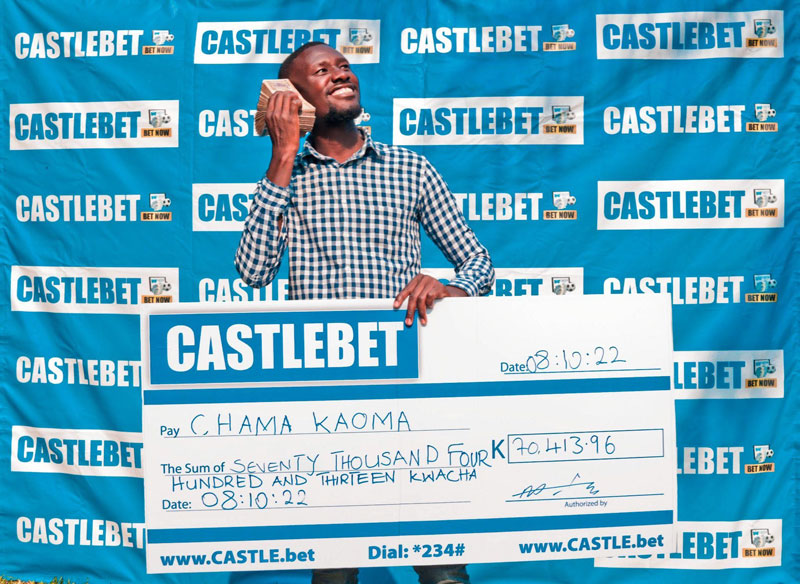 CASTLEBET player Chama Kaoma WON a cool 70 PIN+ from a football multi-bet of just ONE Kwacha!
Chama correctly predicted SEVEN different Europa league 1X2 match results on the Castlebet online platform to scoop a massive payout of K70,413.96 from a stake of just K1.
Last night Chama revealed: "Castlebet isuma sana! I have trusted this site for 3 years now, I trust it especially because it is a Zambian company that is reliable and has paid many big winners."
He added: "Truthfully, up until last week I had won only small amounts here and there like K1000 or 1,900."
But last Thursday night after a big night of Europa League football Chama's luck changed forever - after his ticket of 7 team predictions, all with big odds went through successfully.
Last night Chama explained: "On Thursday I went on the website and saw there were alot of games that day for Europa league. I thought to myself; 'let me just try a ticket since I have a spare coin.' "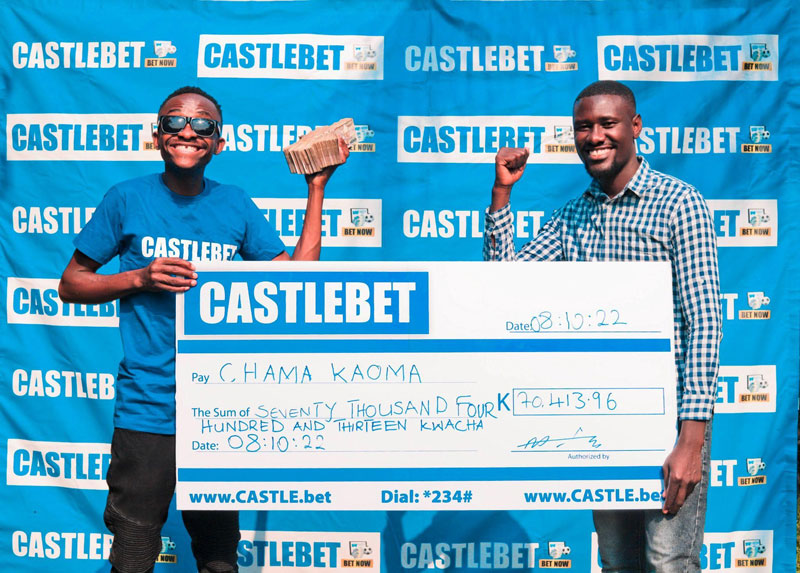 "I added some teams, I was just trying my luck. Now you see the result... my ticket went through! Yaliboomuka!"
Sports bettor Chama, who lives in Kitwe, has been a regular online sports bettor to Castlebet for over 3 years, but last week was the first time his loyalty had been rewarded with a huge payout.
Chama explained: "The surprising thing was on that Thursday night, because I was just trying my luck, I never even thought of logging in to see how the results were."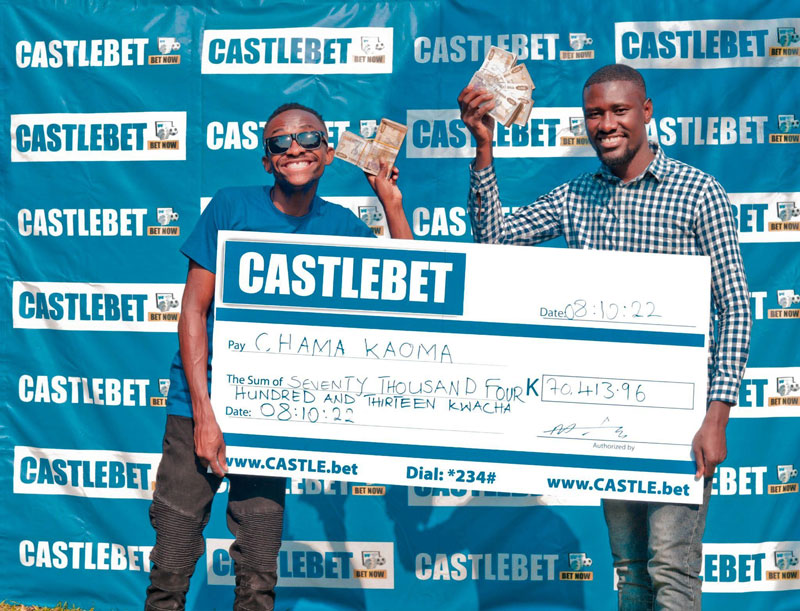 "It was only the following day after sleeping, in the afternoon, I logged in to place some more tickets and saw the money in my account, I was very excited."
"Immediately I went to tell my Father that I had won the money. As you can imagine, since that time I have introduced him to Castlebet also and he was very impressed."
Last night Chama Kaoma advised other sports betters not to give up and lose hope. He added: "I would encourage players to keep playing, keep trying like me. Beforehand I had been playing, winning small amounts like 1000, 1900 but never before I have had a big win like this."
Chama said: "Castlebet Isuma Sanna! Castlebet's platform has a lot of advantages, such as when one team loses you can still get cashback when one team lets you down. Not only that, I am able to cash out if my ticket is going well too."
WATCH EXCLUSIVE YOUTUBE INTERVIEW WITH CHAMA:
The PROOF: Screenshot showing part of Chama's winning ticket & his winning payout - boosted an extra 10 Pin by Castlebet's multiboost bonus.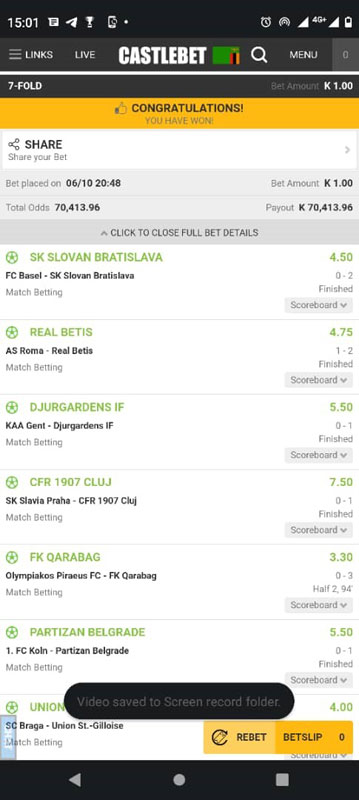 Factbox Q&A: FULL DETAILS OF CHAMA KAOMA'S AMAZING WINNING BET...
HOW DID CHAMA DO IT?
How many teams? Chama originally added 7 teams to his betslip...
Which Games? All bets were on late night Europa League games on the evening of Thursday October 6th 2022.
Which Bet Option/Market type? Chama bet on the basic popular match result market - which  team would win each of the games.
What were the odds? Beauty concentrated on teams with big odds in the range of 3.3 to as big as 7.5. He cleverly avoided betting on the favourite teams with short odds - to achieve a huge payout from a small stake.
Bet Amount: Chama staked just K1 on the bet.
Bet Result: All 7 of Chama's selection WON their matches.
Normal Payout: K64,012.78
Bonus: MULTIBOOST bonus of K6401.18 boosted Chama's winnings to a staggering total of K70,413.96 ZMW from just a tiny stake.
Want to win BIG like Chama? Register with Castlebet:
What is Castlebet's no minimum stake? Castlebet offers its customers the genuine chance to bet small win BIG by allowing users to bet as little as 20 Ngwee! We also cater for VIP customers who enjoy placing bigger bets of 10 PIN or above.
We offer the widest range of DEPOSIT & WITHDRAWAL options.
What is Castlebet's MULTBOOST bonus? Castlebet offer a juicy multibet win bonus in Zambia, inviting users to win up to 100% extra. For example Beauty's 12 predictions earned her a MULTIBOOST bonus of 80% on her normal winnings - increasing his payout to K25,874 from K15,650. We also offers players MONEY BACK BONUS so just 1 losing selection on a BIG ticket does not spoil everything!
Castlebet is the easiest and safest way to bet online securely. Not only do we offer the best odds and the opportunity to bet small win BIG with a minimum bet of K1 and win bonuses up to 100%, we also provide 24-hour support to customers who need it.
Are you the next winner? Visit our VIP site at: m.castlebet.co.zm or our fast-loading lite site at m.castlebetlite.com