Castlebet Free Shopping Spree Competition Breaks Records and Surprises Shoppers
The Castlebet Free Shopping Spree Competition, which gives lucky winners a chance to grab as much grocery as they can in 60 seconds, has been creating a lot of excitement and buzz among Zambian shoppers. The September edition of the competition saw a new record being set and a surprise twist that delighted the crowd.
The winner of the draw, Mr Kelvin Chirwa, a health worker from Kabwe, was accompanied by his girlfriend to cheer him on as he attempted to beat the previous record of K6,842.19, set by another health worker, Mr Moonde Chikambwe from Solwezi. Mr Chirwa did not disappoint as he managed to gift himself with groceries worth K7364.61, breaking the record by K522.42.
WATCH THE SEPTEMBER RECORD BREAKER!
Mr Chirwa expressed his joy and gratitude to Castlebet, saying that he joined in 2019 and loves Castlebet's odds, flexibility, and generosity. He urged everyone to start betting using Castlebet.
"I love Castlebet because they have the best odds, are flexible, don't hide games, and are not a stingy company. I urge everyone to start betting using Castlebet Today." - Kelvin Chirwa Castlebet Shopping Spree Winner.
The day's excitement did not end with the new record. The jubilant crowd at Northrise Mall Pick N Pay was treated to another surprise when Castlebet announced that they would give any shopper who could answer simple questions about Castlebet a chance to grab any item in store. Mr Victor Noondo, who lives in Libala, stage three, showed his knowledge and loyalty to Castlebet and was rewarded with a mini shopping spree of 30 seconds.
With only 30 seconds on the clock, Mr. Noondo did not waste any time as he grabbed groceries worth K5,206.73. He was overjoyed and thanked Castlebet for surprising him with such an amazing prize. He's been betting with Castlebet since 2020.
"Castlebet has really surprised me today for being their loyal customer. I've been betting with Castlebet since 2020. These guys have the best odds in Zambia and the markets are not limited. There are a lot of markets compared to other betting services. And when you win, they give you all your money. They're not stingy. I'm very, very, very happy. I didn't expect it, but I'm very happy. Thank you to Castlebet for giving me this opportunity to win this amazing prize." - Victor Noondo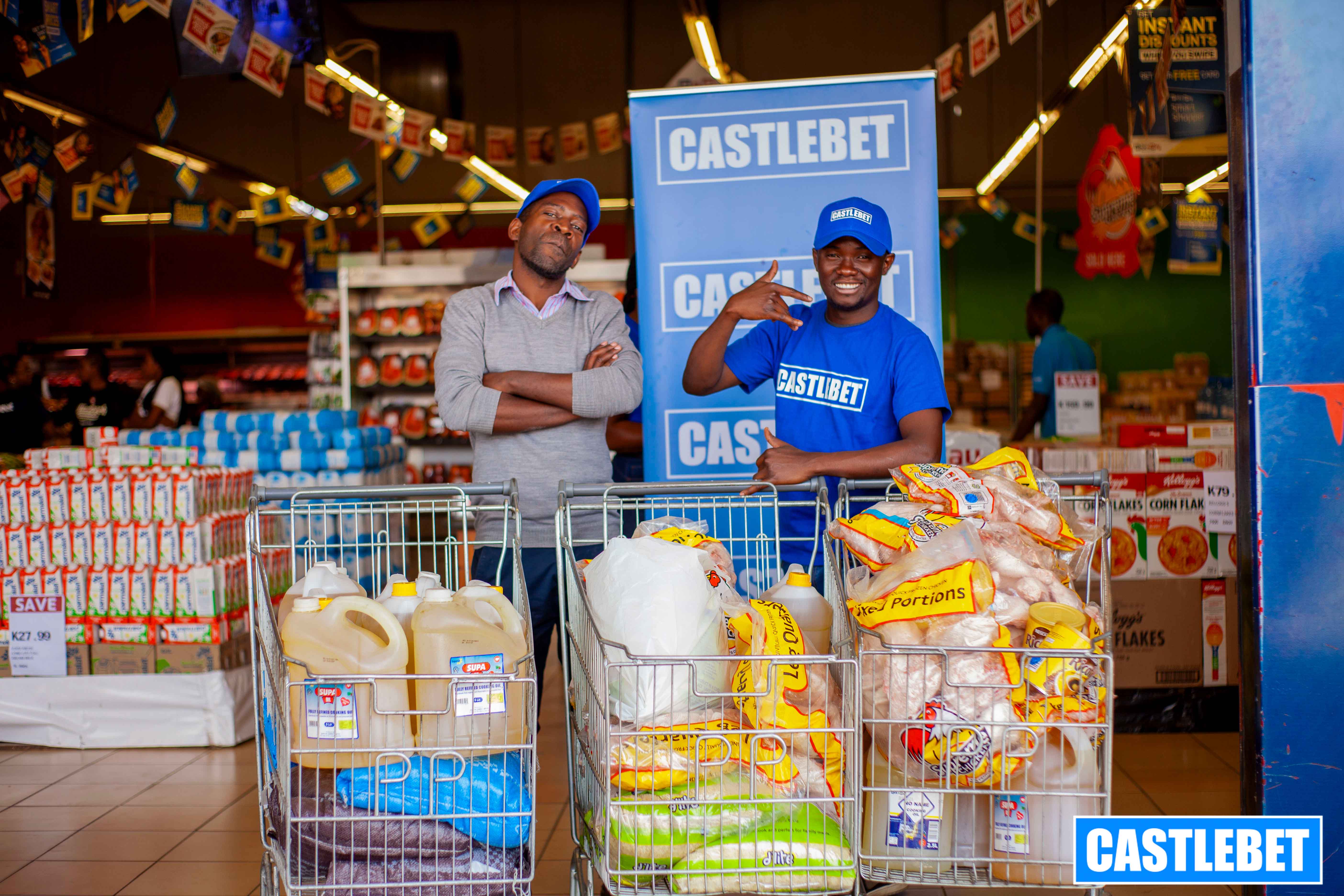 September Double winners Victor(left) and Kelvin(right).
With the records broken in the last two months, you have a fantastic chance of going higher than K7364.61 on your way to a mid-month payday on October 15. Don't miss this opportunity to win big with Castlebet, the best betting company in Zambia.
Go to www.CASTLE.bet or Dial USSD *234# to see the best offers in Zambia
#MWAI_WAKO